Pottery – Wheel – Class
February 12, 2021
@
1:00 pm
–
March 19, 2021
@
3:00 pm
AEDT
Learn Pottery Wheel ceramic skills with Tutor Karen Steenbergen
TUTOR: Karen Steenbergen
START DATE: 12th February 2021
DAY & TIME: Friday 1.00pm – 3.00pm
TERM LENGTH: 6 weeks
DATES: 12 Feb, 19 Feb, 26 Feb, 5 Mar, 12 Mar, 19 Mar 
FEE: $215
REQUIREMENTS: Please bring along your own tools, towel and apron. Covered shoes are essential.
LOCATION SPECIFICS: Studio
MAX NO.: 4
MIN NO.: 4
INFORMATION: This course is ideal for beginners.
Learn the age-old technique of forming pots on the wheel with an experienced tutor. Beginners will learn the fundamental skills of wheel throwing. This will include centring clay on the wheel, the steps of throwing cylinder and bowl forms, and turning/trimming the bases of forms. 
At the completion of the course students will have their own glazed pots and bowls to take home and use.
Materials and firing costs are incorporated into the total course fee: half a bag of clay, one bisque firing, one glaze firing.
Week 1 – Overview of the course, introduction to clay and the ceramic process, main tools and their uses, clay preparation (wedging), demonstrations on centring clay on the wheel.  Students will practise centring clay on the wheel with guidance from the tutor.
Week 2 – Refresher on wedging clay and centring clay on the wheel. Demonstrations on 'opening out' and 'pulling up', compressing bases. Students create cylindrical forms on the wheel with guidance from the tutor.
Week 3 – Discussion and demonstration on turning/trimming leather hard pots, students turn/trim their forms. Students continue to make cylindrical forms on the wheel. Demonstration of throwing bowls on the wheel.  Students practice throwing bowl forms on the wheel.
Week 4 –  Students continue to  practice and create more cylinder and bowls forms on the wheel and turn/trim leather hard work.
Week 5 –  Turning/trimming of all cylinder and bowl forms.  All work is finished this session and ready for bisque firing -the first firing.
Week 6 – Discussion of glazes and glaze application, glaze demonstrations – dipping, pouring. Students apply glazes to all their work for final firing – the second firing.
Please note: The content of these sessions may vary slightly according to the experience level of each student.  
Intermediate students will learn how to make cups, larger vessels, plates and teapots.
After the completion of the course, work takes 2-3 weeks to be fired.  Students will be notified when work is ready for collection.
OTHER:
Good quality tool kits will be offered for sale online through AAH @ $30 each. You may have your own or are able to cobble together a starter kit yourself.
Personal workspace will be cleaned by each student in readiness for the next class.
Roster system for vacuuming and mopping the studio after each class will be organised.
Minimum numbers are required for the class to run.   
If the minimum numbers for this class aren't reached you will be notified by email two weeks before the start date that it has been cancelled and you will receive a refund.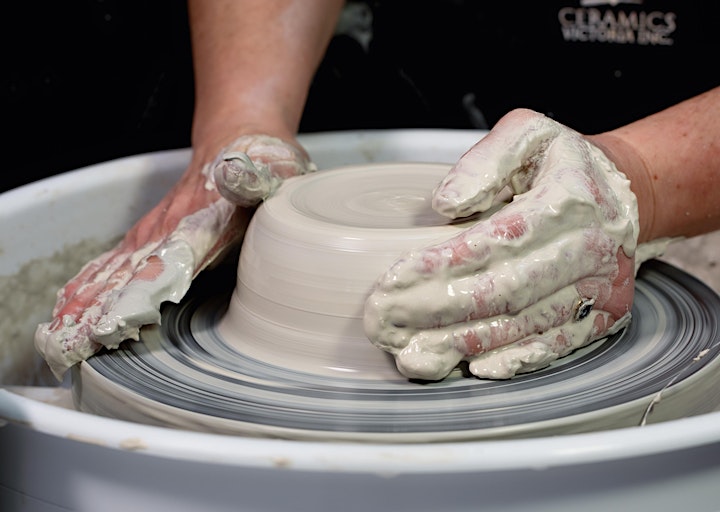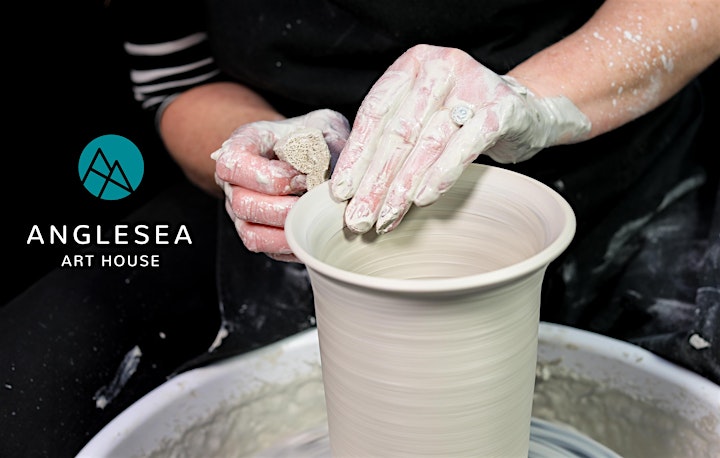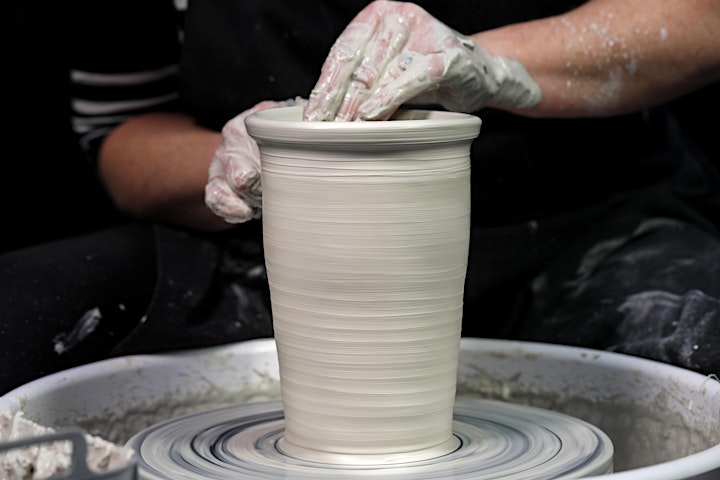 Ceramic Artist Melinda Solly photographed during a demonstration for filming
(Photos by Rebecca Hosking Photography)